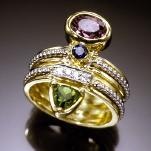 New York University: B.S., Art Education
Fashion Institute of Technology: A.A, Summa Cum Laude, Jewelry Design; Norman Morris full-tuition Scholarship; Jewelry selected for permanent Collection
World Gold Council Intergold Design Contest: Second Prize
De Young Museum: Enameling; wax carving
College of Arts and Crafts: Stone setting
Gemological Institute of America: Pearl Grading; Colored Stone Grading
Rio PMC Certification: Precious Metal Clay teaching certification
Revere Academy of Jewelry Arts: Stone setting
The Crucible: Cloisonné emameling
Richmond Art Center: Limoges emameling


New York: Fashion Institute of Technology; Craft Students League; Joan Michlin Gallery; Works Gallery; People's Pottery.

California: Earthworks; Nordstrom; Sebastopol Gallery; Strictly Laura's, ACCI Gallery, Sebastopol Center for the Arts, Healdsburg Center for the Arts, Art at the Source, Corricks, Santa Rosa, Ken Gray Design Jewelers Gallery, Santa Rosa.

Elsewhere: Guilford Art Center, CT; Focus on Art, NJ; Nancy Brown Gallery, Santa Fe.


150 craft shows including:Healdsburg Center for the Arts, Marin Art Festival; Contemporary Crafts Market; American Craft Enterprises Shows (San Francisco, Baltimore, Minneapoles); Artrider Productions; Lincoln Center Crafts; Nassau County Art Museum; Performing Arts at Purchase; Westport Arts; Guilford Crafts, Art at the Source


American Craft Enterprises, Baltimore; Wendy Rosen Shows, Philadelphia; Jewelers' Circular Keystone (JCK) Show, Designers' Section, Las Vegas


Profile Article in Lapidary Journal & Jewelry Artist (May/June 2020), Pearl Buying Guide (Renee Newman) World Gold Council, Gold Trends and Designer Directions; Jewelers' Circular Keystone; National Jeweler; The Journal News; F.I.T. Network Magazine; The Pelham Post


Oscar Heyman Brothers: Journeyman jeweler
Selinger Designs: Model making and design


Value Vision TV: On-air interviews and sales
Westchester Cable TV: Interview


Craft Students League, New York: Wax carving for jewelry
Chimera Arts, Sebastopol, CA: Jewelry and enamel arts
Mendocino Art Center, Mendocino, CA: Enamel arts
Healdsburg Center for the Arts, Healdsburg, CA: Enamel Arts
Private jewelry classes and personal instruction, New York and California: Jewelry and enamel arts